Ace Medical Insurance in the quest to enhance transparency and improve customer experience, has introduced the Ace Medical App, a unique mobile application (both Android and iOS) for members.
Whereas the mobile applications in use by competitors in the industry is a generic form with the same features, the Ace Medical App has been customised for Ace Medical Insurance Limited only. The Ace Medical App thus builds on the generic features of assisting members locate and rate service providers, and checking their healthcare usage data, by enabling members to easily book appointments with service providers.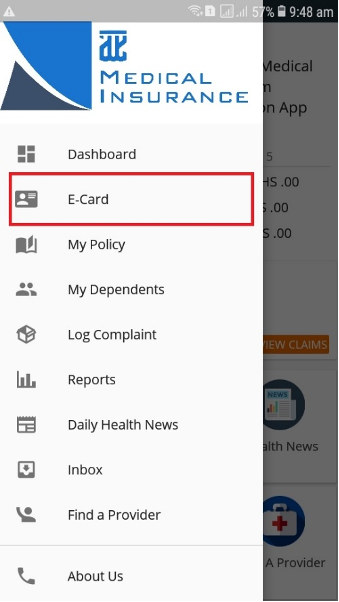 Members can also verify the availability of prescribed medications at pharmacies before moving to the location. Ace Medical firmly believes that it is rather ironic for the search for a cure to aggravate the ailment being cured. The company's aim is thus to make accessing healthcare a stress-free experience for its members to aid in their quick recovery.
The App is downloadable and usable on all smartphones, is a technology-based tool that enables members to, among others, view utilization reports, locate healthcare service providers, and access an electronic membership card all on their smartphones. The App enhances transparency and improves customer experience.
Accessing Electronic Membership Card on Ace Medical App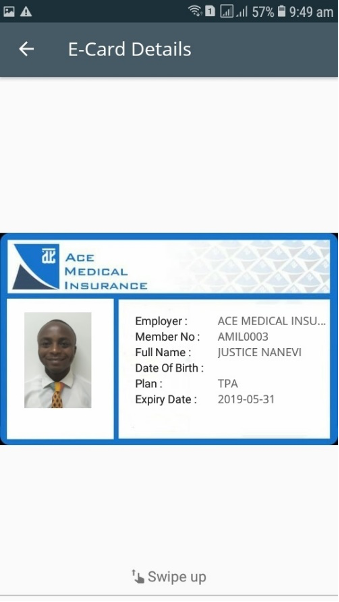 This is an individual's membership card displayed on their smartphones. The E-card comes in handy when members need to access healthcare but do not have their membership cards on them. Displaying all the features of the printed membership card, the E-card can be shown to an accredited service provider on the member's smartphone for services to be rendered. This ensures that members are not denied much needed healthcare by reason merely of the fact that they do not possess their printed membership cards.